Products and services
Wood and wood types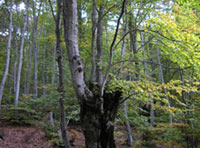 Forests are natural resources of common interest and forest management is an activity of general interest. Therefore with article17 of the law basic activities are confirmed to be: growing, protection and use of forests. With their implementation the enterprise should provide constant preserving and increasing of forest value, as well as permanent increase of their growth and their generally useful functions.
The public enterprise Makedonski sumi manages with:
Public forests --------------------- 859.427 he (89%)
Planning of the needs and production of planting material in RM
Private forests -------------------- 106.223 he (11%) The enterprise has seven sawmills available at total capacity of 40.000 m3. The planned production in 2003 reached 15.364 m3 of lumber. 15.682,95 m3 logs are whipped of which 7.905,852 m3 lumber and 2.044.697m2 beech parquet is produced.